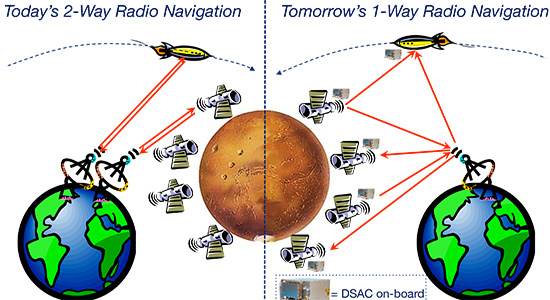 Deep Space Atomic Clock
January 14 & 15
Atomic clocks are an integral, yet almost invisible component of modern life. They provide the foundation of the now-ubiquitous Global Positioning System (GPS) enabling an entire industry of location-aware applications. They also underpin the global financial and trading system where transactions have to be tagged to millisecond precision. For space exploration, they have been the foundational frequency standard for NASA's Deep Space Network. NASA's Deep Space Atomic Clock (DSAC) Technology Demonstration Mission, led by the Jet Propulsion Laboratory, has been maturing the latest Atomic Clock technologies into a smaller, less massive package suitable for installation on a variety of deep space probes to enhance navigation precision and gravity science across the solar system.
Speaker:
Dr. Todd Ely, DSAC Principal Investigator, JPL
Allen H. Farrington, DSAC Project Manager, JPL
General Information
The Theodore von Kármán Lecture Series, named after JPL's founder, and presented by JPL's Office of Communication and Education, brings the excitement of the space program's missions, instruments and other technologies to both JPL employees and the local community. Lectures take place twice per month, on consecutive Thursdays and Fridays. The Thursday lectures take place in JPL's Theodore von Kármán Auditorium and are streamed live via Ustream, and Friday lectures take place at Pasadena City College's Vosloh Forum. Both start at 7:00 PM. Admission and parking are free for all lectures, no reservations are required, and seating is limited.
Public Services Office
4800 Oak Grove Drive
Jet Propulsion Laboratory
Mail Stop 186-113
Pasadena, CA 91109
Phone: (818) 354-1234
Fax: (818) 393-4641