$9/person, children 3 and under eat free.
There will also be a video arcade bus, a magic show and face painting.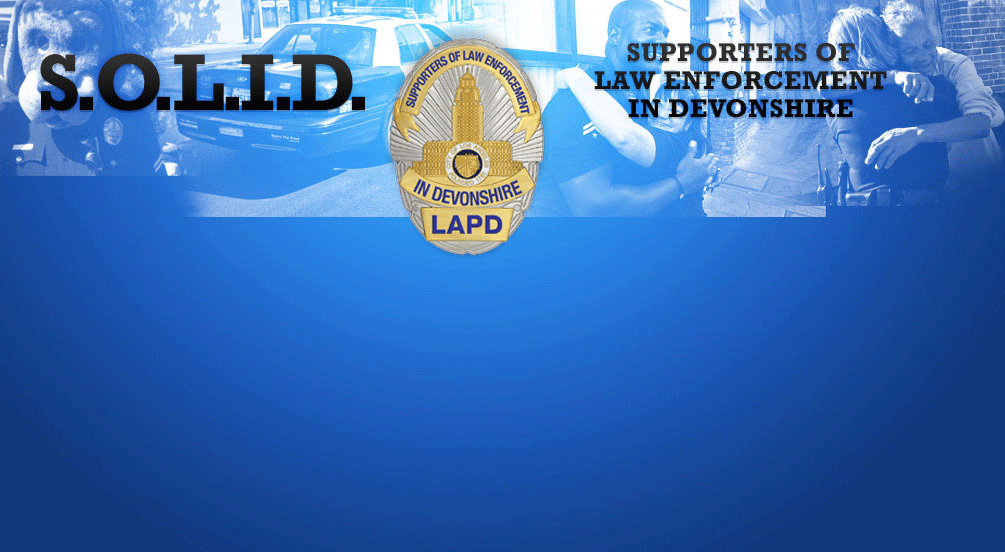 S.O.L.I.D.'s mission is two-fold:
​
First, we provide the officers in the Devonshire Division of the Los Angeles Police Department with resources which the City of Los Angeles does not provide.
​
Secondly, we support Community Policing. Everything donated to S.O.L.I.D. remains in the Devonshire Division and is used for the enrichment of the Devonshire Community.
​
S.O.L.I.D. is a California 501(c)(3) non-profit and was formed in 1990. We continue to thrive with S.O.L.I.D. support from individuals and businesses in our local area.
​
Every year the community supports our two main fundraisers, the Annual Pancake Breakfast, which is held in May and the Annual Pasta Dinner, which is held in October.
     What We Do
Our objective is to support the LAPD Devonshire Area by raising funds to purchase needed resources not provided by the City of Los Angeles.  This may include equipment, training, updating technology, renovating existing facilities and providing amenities that would improve the working conditions of our officers.  Some of our past projects and purchases have been
​       Renovation of the roll call room
Remodel of the break room

Purchase of the Force Option Simulator Building – Virtual Training Facility

Acquisition and refurbishment of the new Community Policing Center

Low light surveillance equipment

Scanners and color printers for the Crime Analysis Unit

Domestic Violence kits

Graffiti removal material used by neighborhood groups

Bicycles, bicycle patrol uniforms and accessories for bicycle patrol officers